We invite you to celebrate with us this Easter season through a number of special worship services!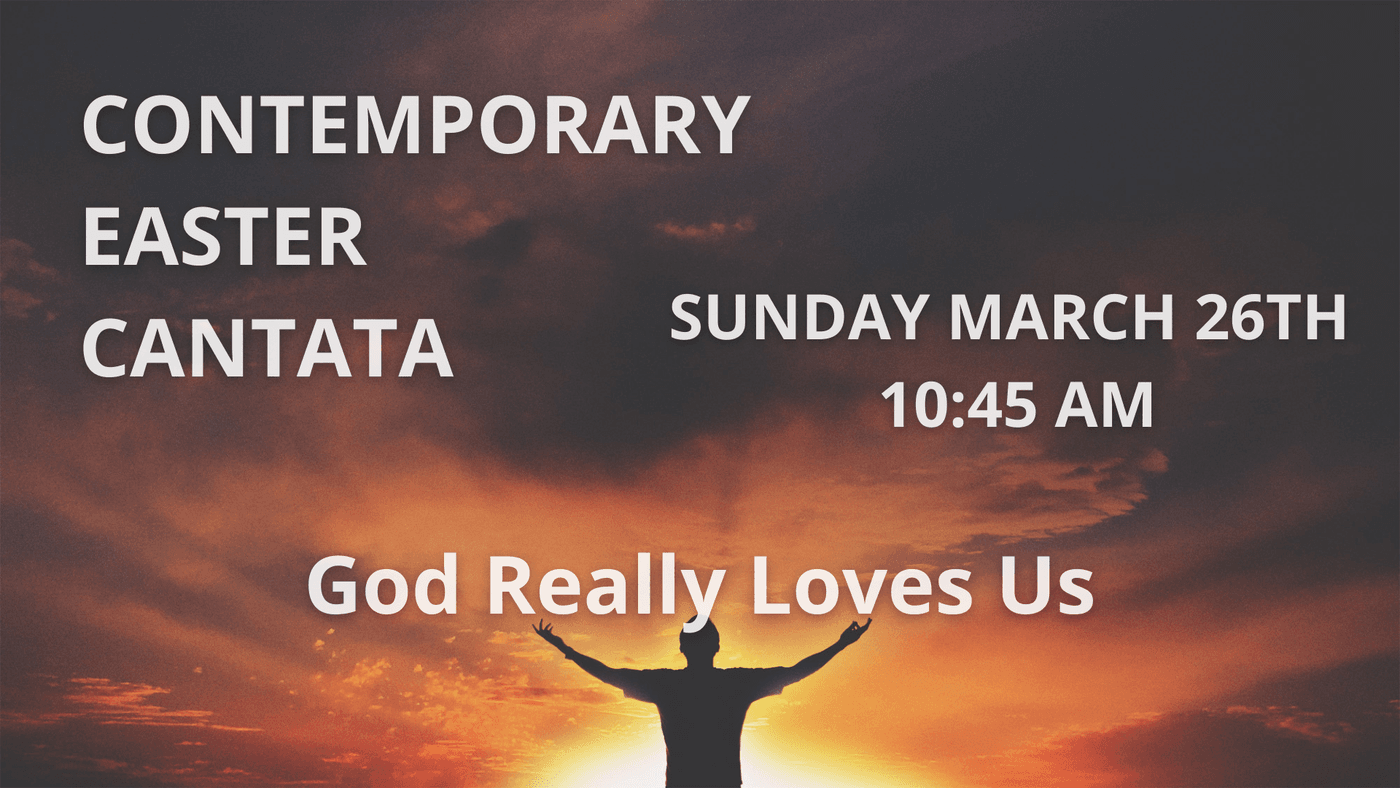 We'll have a special Contemporary Cantata "God Really Loves Us", Sunday, March 26 led by our Praise Band in the gym.
We will enjoy a Traditional Easter Cantata "The Living Last Words" on Palm Sunday, April 2 at 8:15 a.m. in the Sanctuary featuring the Chancel Choir.
Palm Sunday, April 2, Kids Ministry will kick-off Holy Week by celebrating Palm Sunday with a traditional procession of Palms. All children are invited to participate in the Procession of Palms in either (or both) services. To ensure we have plenty of fresh palms for everyone and to get updates about where and when to to be there, Please register here
Monday, Tuesday, Wednesday, April 3, 4, 5, we will hold Holy week midday services @ noon in the Youth Lounge. There will be a light lunch served in Genesis Hall following each message. All are welcome to join in our worship and fellowship.
Thursday, April 6, we will have a Maundy Thursday service @7pm in the Sanctuary.
Friday, April 7, we will have a special Good Friday service @7pm in the Sanctuary.
Saturday, April 8, our Kids program is hosting an Eggstravaganza from 10:30 till 12:30. Activities will start in the gym with a selection of different engaging stations, followed by a quick kids sermon. Official age-appropriate hunts will happen back to back starting at 12:00. The Bunny will be hopping by for some pictures with kiddos and there will be some sweet baby animals visiting out in our courtyard. This is a family event, but is designed for kids 1 through 5th Grade. Please register here.
Easter Sunday, April 9, we will have three services: a traditional service in the Sanctuary at 8:15, a contemporary service at 9:30 in the gym, and a contemporary service at 10:45 in the gym. The 8:15 and 10:45 services will both be live-streamed.
We will have a cross outside of the Sanctuary on Easter weekend. You can bring flowers and leave them or stop for a photo with your family.
Lastly, Easter Lilies are on sale now through March 25. You can dedicate them in a special bulletin for that day. The cost is $12.00.