Spend a Night in Bethlehem with HFUMC
Saturday, Dec. 4, HFUMC Kids will be hosting its annual Night in Bethlehem, complete with a live nativity scene, animals, and fun activities from Jesus' time on earth. And right now, we need VOLUNTEERS! Click here to sign up to play a role, work an activity station, help in the kitchen, and more.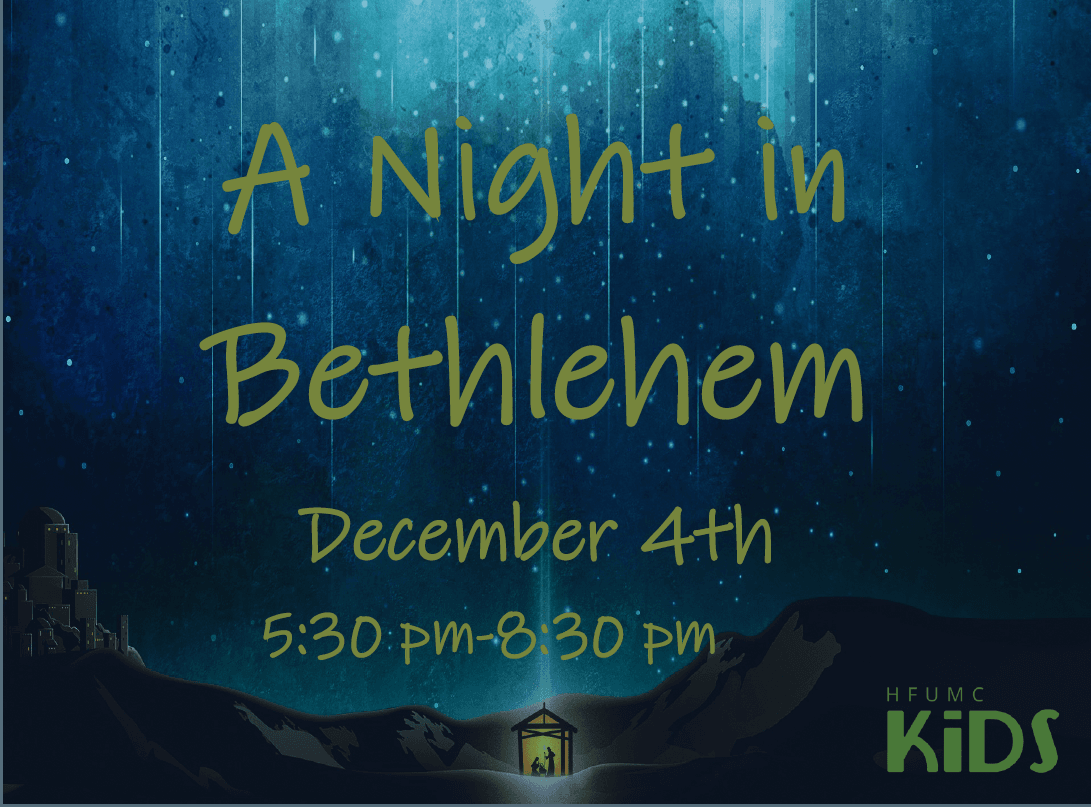 Christmas Music is Coming!
Save the date for our annual Christmas Cantatas! The contemporary cantata will be Sunday, Dec. 12, at 10:45 in the gym. The traditional cantata will be the following Sunday, Dec. 19, at 8:15 in the Sanctuary.
HFUMC News Nov. 24, 2021: Counting our Blessings: A timely devotional from Larry Wise. Plus, Christmas Events, Service Shout-Outs, and More News
HFUMC News Nov. 18, 2021: The power of a thankful heart and ALL things holidays -- Turkeys, Poinsettias, Night in Bethlehem, and an inaugural Kids Advent Fair
HFUMC News Nov. 10, 2021: Turkeys, Poinsettias, Veterans, Giving, and Gratitude - So much goodness to share this week.
HFUMC News Nov. 3, 2021: Join us for 30 Days of Thankfulness, All Saints Day, and It's Turkey Time!
HFUMC News Oct. 27, 2021: Practicing Silence & Solitude before a life change, All Saints Day is coming, and last chance to buy a pumpkin!
HFUMC News Oct. 20, 2021: Silence & solitude sermon series continues, financial update & 3rd quarter giving statements, fall activities, and last call for winter care drive donations
HFUMC News oct. 13, 2021: All things fall! From baked goods to pumpkins, we have something for everyone.
HFUMC news Oct. 6, 2021: Cleaning Out Closets? We have a place for your kids' old coats. TONS of fun October events start this weekend. And a new sermon series on finding solace.
Helpful Links