HFUMC Coronavirus Update: Return to in-person Worship!
We are excited to share that we will be returning to in-person worship Sunday, June 21! We will have our Traditional Worship Service at 8:15 AM in the sanctuary, followed by our Traditional Service at 10:45 AM in the gym.
As we begin this initial phase of re-opening, the church campus will only be utilized for Sunday morning worship services. We will not yet be able to offer childcare during worship, children/youth classes or Sunday School. This measure is to ensure the safety of all guests by limiting gatherings to the largest spaces in the church where adequate provisions can be made for distancing, traffic flows and proper sanitation between events. All other groups and classes will be encouraged to continue meeting virtually while ongoing assessments continue throughout the summer. If you have small children and typically use childcare, or are in one of the high-risk categories and don't feel comfortable worshiping in person, we will continue to live stream both services on our Facebook page and at HFUMC.org/online.
We will continue to worship online Sundays at 10:45 AM on hfurmc.org/online and facebook.com/hfumc. You can also view services on Channel 3 (Channel 99 for AT&T users) Tuesday at 7 PM.
Remember, our Church is still active in our community. Please continue to give online or text HFUMC to 73256.
---
UMW Canned Food Drive
The HFUMC UMW will be collecting food items to benefit the Samaritan Center in the church parking lot on Saturday, June 27, from 9am-noon.
People donating are asked to put the food items in the trunk or cargo area of their car. There will be volunteers with masks and gloves on to unload the donations. PLEASE do not get out of your car.
Items needed include:
Applesauce - cans or jars (not single serve)*
Canned fruit: fruit cocktail*, pears
Large soups - Progresso*, Chunky Soup*
Campbell's cream soups (cream of chicken, celery)*
Canned meat: canned chicken*, hams*, corned beef or roast beef hash*, chili*, Vienna sausages, etc.
Canned evaporated milk*
Canned vegetables*: tomato SAUCE, lima beans, black-eyed peas, potatoes, refried beans
Boxes, dried macaroni – or any pasta product*
Items marked with "*" symbol are most needed. Items in bold print are most urgently needed.
PLEASE do not purchase green beans, corn, macaroni & cheese or peanut butter! We have been blessed with an abundance of these items.
---
---
Two New Online Summer Studies start in June
This summer, all are invited to join Pastor Joshua Strader Tuesday nights at 7 for a new, online summer study, The Gospel of Mark. Each week will include stand alone sessions, and new participants are always welcome!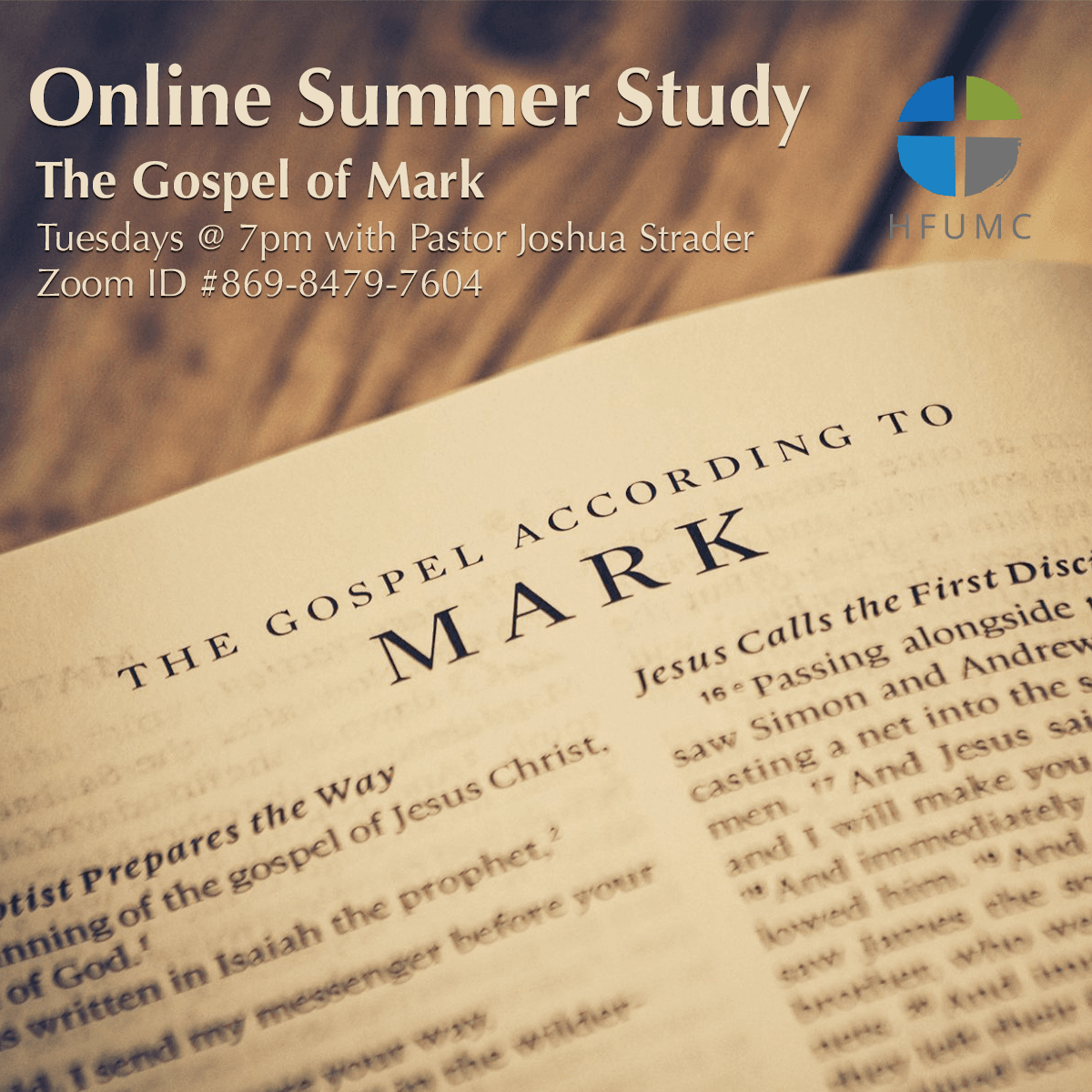 Thursday nights, Ted Brown will be leading a different online study, The Apostles' and Nicene Creeds. All are welcome to join!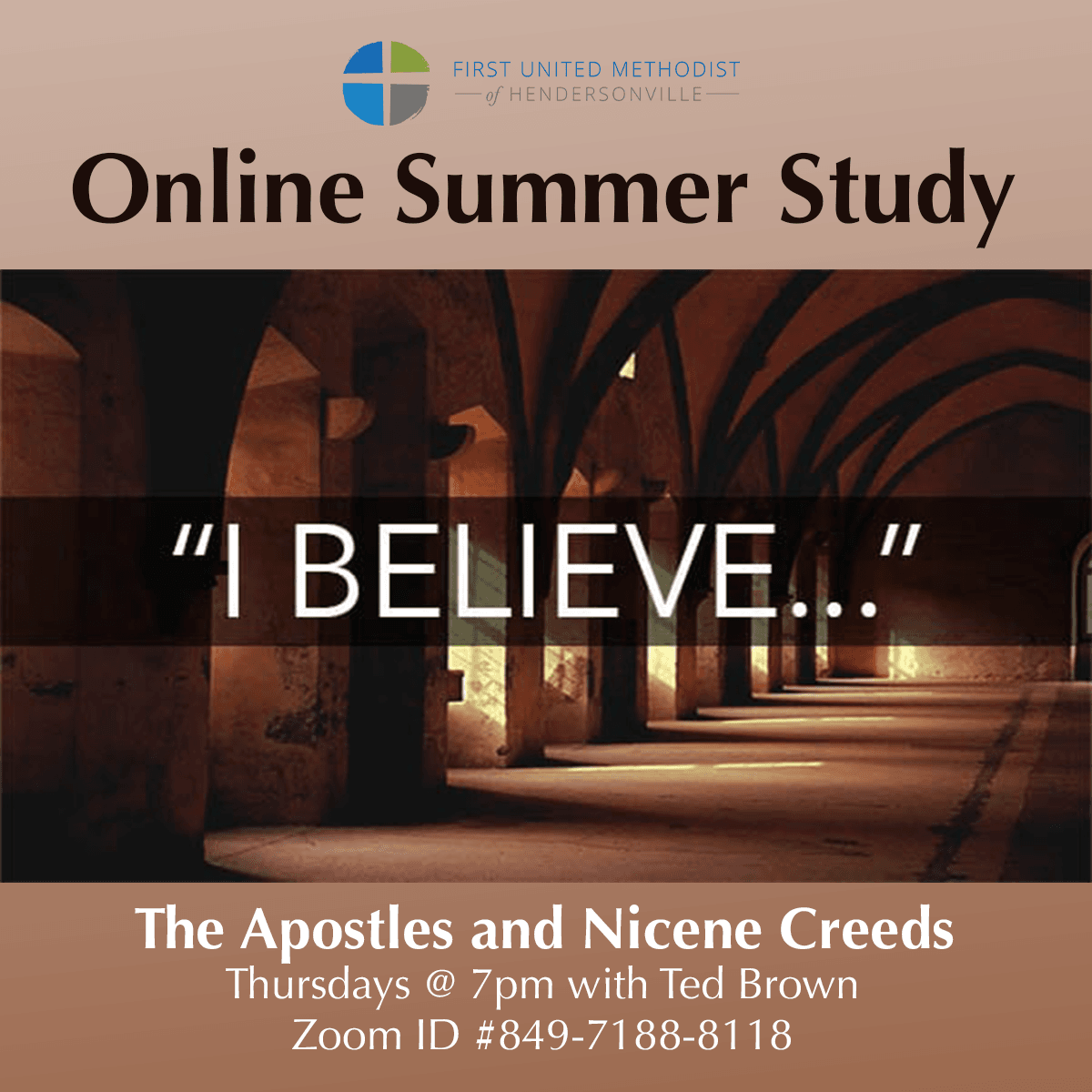 ---
Mission Opportunities
---
Do you want to get the prayer list email?
Click the link above or here. Enter your information and select the lists you would like to join.
---
Upcoming Events
---
Helpful Links